Have you ever heard of this small and delicate French pastry called Madeleine? I have been looking for a madeleine recipe with an orange blossom flavor for a while now. Let's pretend I tried to recreate the great taste of my childhood like the French author Marcel Proust did. So cliché I know!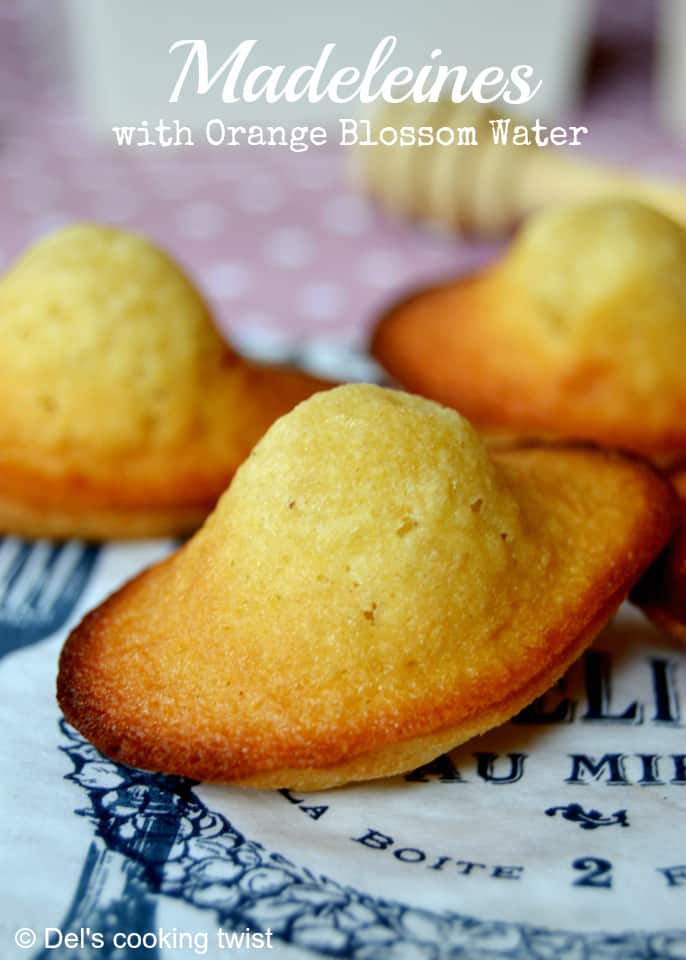 Of course, there are plenty of different recipes of these little madeleines! Some with chocolate, lemon, honey, etc. Hop over to my blogger friend Mo from the blog Have Mo's Cake and Eat It Too, you'll find many lovely madeleine recipes. My friend Mo comes from Commercy, where the madeleine cake has been invented, so let me tell you she's an expert!
As I said earlier, I was looking myself for a specific recipe with orange blossom water. On the other hand, I wanted them to have this lovely bump which is characteristic to the madeleines but very difficult to obtain. After reading many recipes, I found on Clea Cuisine that this lovely little bump was actually created by a thermal shock. You've got to allow the dough to cool for a few hours in the fridge and then take it out at the very last minute when the oven is already preheated. It's magical! You obtain a lovely little bump and your madeleine is both moist and mouthwatering.
I usually appreciate madeleines with a hot cup of tea while reading a book. To me it sounds like the perfect lazy afternoon! Now that you all know the secret of these adorable little madeleines, it's your turn to bake them!
Ingredients (serves 20):

2 large eggs
1 cup flour
3 ½ oz semi-salted butter
3 ½ tbsp honey
30g sugar
1 tsp baking powder
1 ½ tbsp orange blossom water
1 pinch of cinnamon
1 pinch of salt
Preparation Method:

1. Beat the eggs and whisk in the sugar, a pinch of salt and a pinch of cinnamon.
2. Melt the honey with the butter in a small saucepan. Pour half of this mixture to the eggs, then add flour and baking powder. Pour the rest of the honey-butter mixture to the dough and add orange blossom water.
3. Allow to cool in the fridge for 2 hours minimum.
4. Preheat the oven to 450F. Grease a madeleine mold and fill the cavities with 1/2 spoon of dough (they swell during baking). Bake for 8 minutes, until the small characteristic hump shapes. Then reduce the temperature to 350F and bake for 5 minutes. Good to know, you can keep them in a airtight box at room temperature for a couple of days.