With the firm intention of baking a blueberry pie, I decided to make a kind of benchmark of pies from different countries. The traditional American one with the dough stripes on top, the Swedish one, with a vanilla cream and a crumbly top crust for the pie, or the French one, a bit less known, probably because most of the berries are located in the mountain areas of France. I clearly remember when I tasted my very first one: I was ten and I was visiting some friends in the Alps!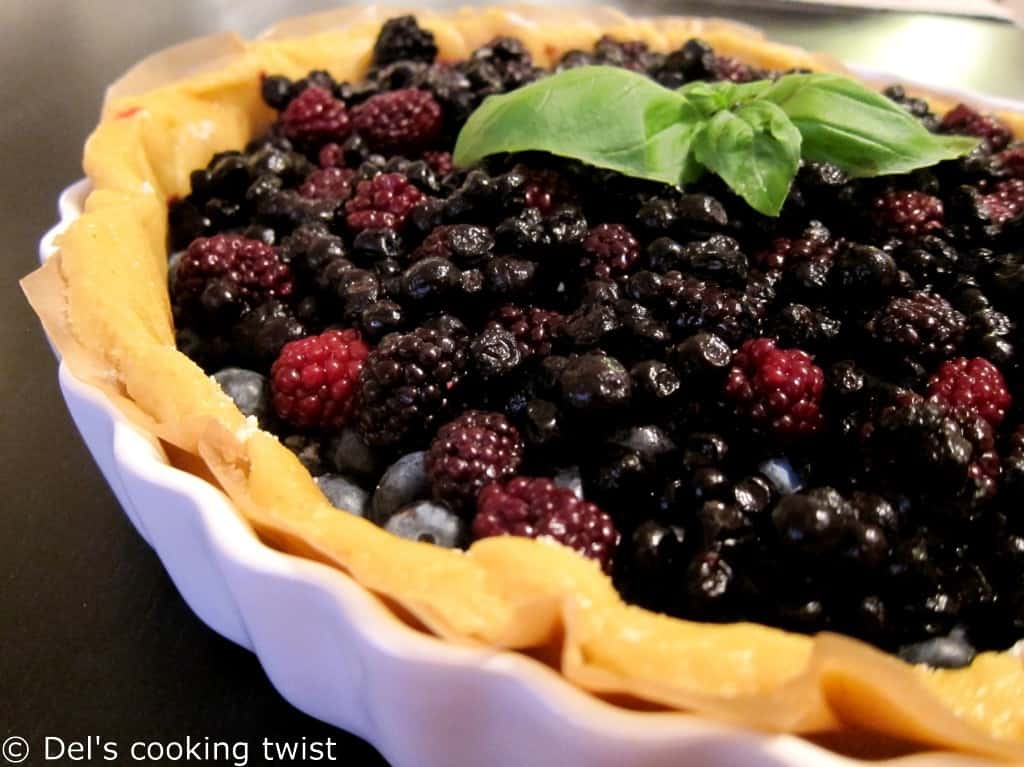 Let's get back to our blueberry pie benchmark. It turns out that the crust is actually what makes the pies different from one another. So, I decided to focus one the pie crust, trying to find one that would be firm and tasty (which for me means with eggs). And among all the recipes I read, I finally got inspired by a crust flavored with cinnamon. I decided to give it a try.
And the end of all this is a success story. The cinnamon crust was perfectly well balanced, giving a refined taste to the berries (I decided to mix in wild berries instead of having an all-blueberry pie). I added a neat twist: a bed of almond flour. A perfect dessert that you can serve with some vanilla ice cream on the side.
Ingredients (serves 6-8):

For the cinnamon crust:

2 cups all-purpose flour
2 pinches of salt
⅔ cup softened butter
½ tbsp icing sugar
1 ½ tbsp white sugar
2 large eggs
1 tsp cinnamon
For the filling:

200g wild blueberries
100g wild blackberries
2 tbsp almond flour
4 tbsp icing sugar
Preparation method:

1/ For the cinnamon crust: in a large bowl, sift the flour and form a well in the center. Add the salt, sugar, cinnamon and the softened butter in the middle. Beat the eggs in a small bowl and add them to the well. Form a thick dough. Put the dough in between two large plastic cling films and roll into a large disk. Cool the pastry in the fridge for two hours.
2/ Preheat the oven to 350°F. Line a 10-inch pie dish with the crust. Prick lightly with a fork and set aside.
3/ For the filling: mix the almond flour with the icing sugar and spread over the cinnamon crust. Add the berries.
4/ Bake in the oven for 30 minutes at 350°F. Allow to cool before serving and decorate with basil leaves and/or with icing sugar.