This was my first attempt at the quinoa patties recipe. I wanted to cook something healthy and tasty, using simple ingredients and/or leftovers. but very tasty as well.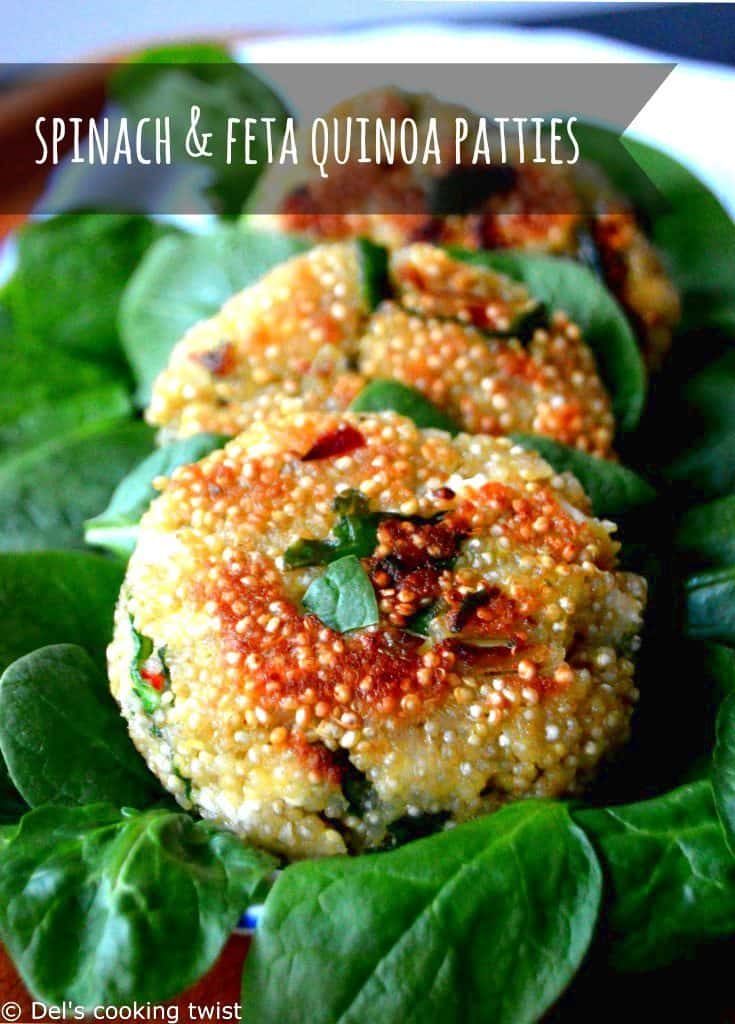 I first looked for inspiration browsing different recipes on Pinterest. As none really satisfied me, I decided to create my very own recipe, with some spinach, feta cheese and a little pepper to enhance the taste. It is super easy to prepare and I was really happy with the result. We ate the patties with a side of green salad and a yoghurt and lemon dip and that was just delicious!
This recipe is also perfect to use some spinach or quinoa leftovers, and is part of the fight against food waste within The European Week for Waste Reduction – EWWR, that my blogger friend Kalou & Cook launched with several food bloggers.
Spinach and Feta Quinoa Patties
Healthy vegetarian spinach quinoa patties. A must try!
Ingredients
Quinoa patties:
2 ½ cups organic quinoa, rinsed
½ cup (100g) organic fresh spinach, rinsed
3.5 oz (100g) feta cheese, crumbled
2 small red chili peppers, finely chopped
3 shallots, finely chopped
1 yellow onion, finely chopped
2 organic garlic cloves, finely chopped
2 tablespoons organic extra-virgin olive oil
2 large organic eggs, beaten
1 ½ cups bread crumbs (add more if needed)
Yoghurt dip:
5 tablespoons organic Greek yoghurt
1 tablespoon organic lemon juice
1 tablespoon organic chives, finely chopped
Instructions
Pour the quinoa in a saucepan. Cover with 1 cup of boiling hot water. Bring to a boil, then reduce heat, cover and simmer (low heat). As soon as all the water is absorbed, turn off the heat, but leave covered. The steam will continue to cook the quinoa, resulting in lovely fluffy quinoa grains. Put aside to allow to cool.
In the meantime, crumble the feta cheese in a small bowl. Then finely chop the onion, shallots, garlic cloves, red chili peppers and spinach.
In a large bowl, mix the cooked quinoa and eggs together until combined. Stir in the salt, chopped shallots, onion, garlic, red peppers and spinach. Then mix in the bread crumbs and feta. The mixture should be wet enough to mold into patties. If it's not, add some water or an egg. If, on the contrary, it's too wet,add some bread crumbs until it reaches the right consistency.
Drizzle olive oil into a large skillet. Let it heat it up on medium-high. Spoon some mixture into a ball using 2 tablespoons and place into the heated skillet, lightly pressing it down with the back of a spoon to shape it into a patty. Cook 3-4 patties at a time, for 3-5 minutes on each side, until both sides are golden brown. Repeat with the rest of the mixture.
Prepare the dip in a small bowl using the Greek yoghurt, the fresh lemon juice and the finely chopped chives.
Enjoy the patties hot or cold, with the yoghurt dip and a green salad!