Discover the authentic Chicago-style deep dish pizza, made with a crunchy flaky crust and garnished with thick layers of cheese and tomato sauce.
It's my Chicago Birthday, I just turned 1 year as a foodie in Chicago! To celebrate this special occasion, I baked a giant Chicago-Style Deep Dish Pizza. I have tried countless of them since I moved to Chicago, but it was my very first attempt to bake it myself. Being a huge fan of deep dish pizzas, I was quite exigent with the result I expected in taste and texture. While reviewing the existing deep dish pizza recipes, I found out that there were many different ones that had nothing to do with each other. It's easy to get lost! So I simply tried to recreate my very favorite deep dish pizza, the one from Lou Malnati's. No need to wait longer here to tell you the result. A complete success. I'm so happy I found how to make the perfect (in my own opinion) deep dish pizza.
So, what's a Chicago-style deep dish pizza, and what makes it different from the classic Italian pizza? That's a good question actually, as they have absolutely nothing to do with each other. The look is different, the texture is different, the taste is different. To begin with, a Chicago-style deep dish pizza is baked in a deep dish cake pan (!). It consists of a crunchy flaky crust with edges going up in the pan, and garnished with generous layers of cheese and tomato sauce. Not your regular flat and thin pizza.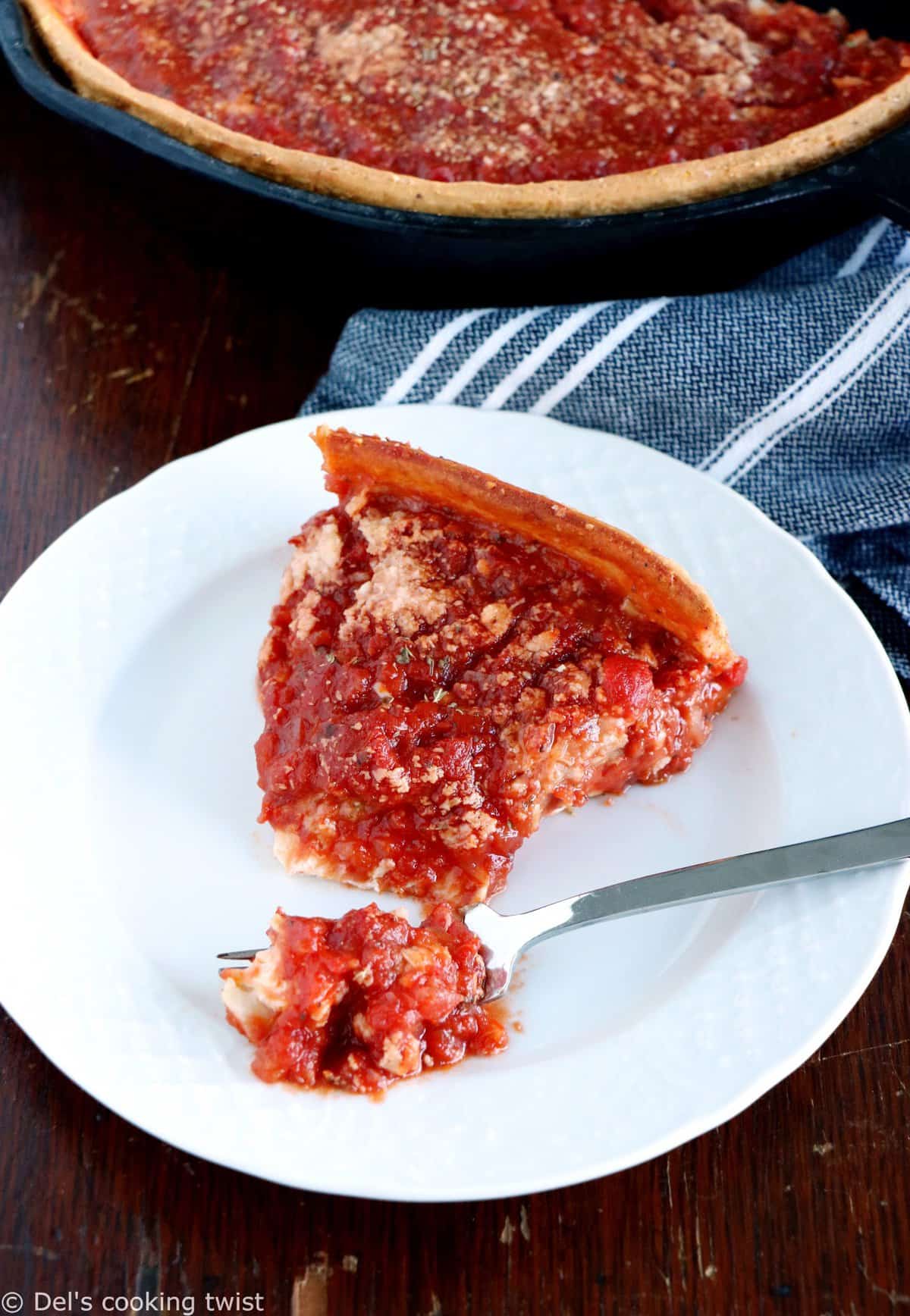 The crust is very different in taste and texture from the one you are used to with a regular pizza. Even between the different deep dish pizzas you can try in Chicago, the crust is different from one place to another, some of them can be soft, other crunchy. I definitely go for the very thin crunchy buttery one, that is by far my favorite. Thing is, there are plenty of different recipes trying to recreate the Lou Malnati's pizza (my favorite). I looked at different forums and found many passionate people competing about it. Some of the recipes seemed a little bit advanced to make, and I wanted an easier version, something everyone could do at home, no matters the cooking skills, advanced or beginner….