Anyone is up for a guilt-free cheesecake with raspberries? Gluten, lactose and refined sugar free, this healthy dessert with a raw base is still incredibly tasty!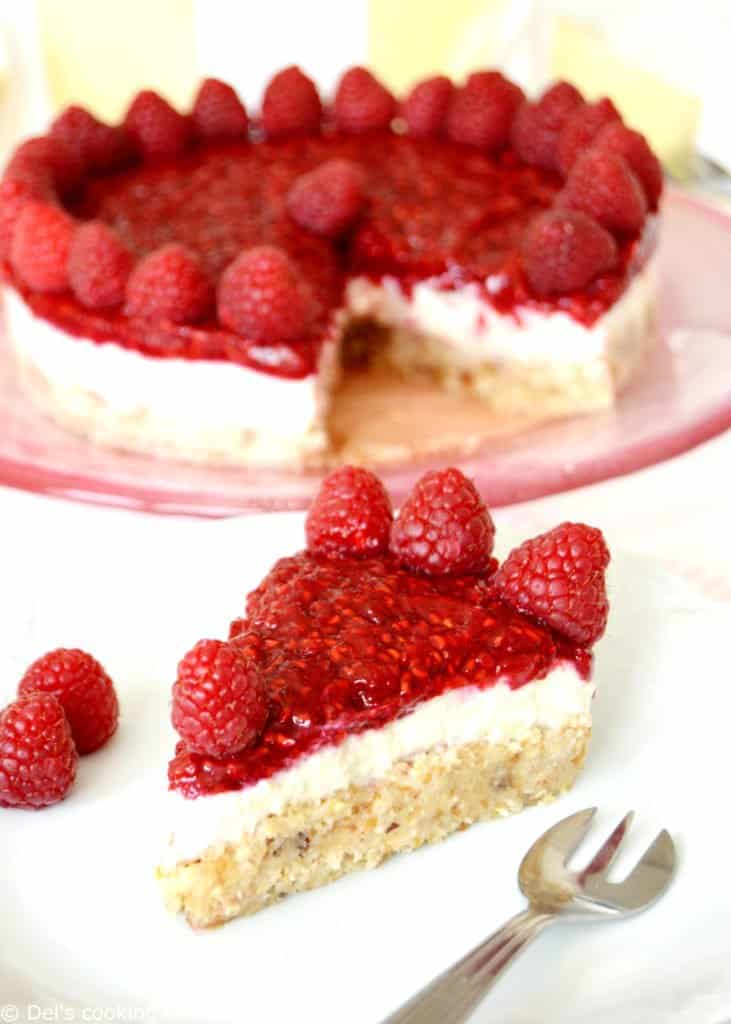 Just a little reminder here before I go further: I am not allergic of any kind (lucky me!) and I don't follow any particular diet. However, I love culinary challenges! And this time, I got quite an interesting one: a special wedding cake! My very good friend Fernanda is getting married next week with an amazing guy (yes amazing, he is a food lover!) and she asked me if I could come up with ideas regarding the desserts.
She wanted something that could suit all the guests at once, whether they were allergic to gluten, lactose, or would have diabetes issues. Quite a challenge indeed, since it is not easy to bake such a dessert for more than a hundred guests as you can imagine! So even if I was not of charge of baking the cake myself since the wedding will be in Portugal (quite far away from my little kitchen here in Sweden actually!), I tried to help my friend Fernanda and her sister Rita to find THE wedding cake they are dreaming about.
This means that I spent hours searching after ideas and made some tests in my kitchen, baking several versions of the cake (in a small size though), and eating them all afterwards (very important part of course). How hard is my life, seriously? Thinking about food and creating recipes… I couldn't imagine better!…