Raw, vegan and gluten free, these pink berry bliss balls will take you only 5 minutes to prepare. They make a lovely healthy snack to enjoy anytime of the day.
Pink October is here and it's time for me to show my support for breast cancer awareness again, through a naturally pink recipe (last year I had shared these Vegan Pink Beet Pancakes for the occasion, a recipe that you all seemed to have loved a lot!). Sharing a recipe for such a serious cause might seem very modest, but if you think a little, everything starts in a plate, and it's important to remember how much food matters in search for a healthy life.
Through this new healthy pink recipe, I want to show my support to all women suffering from breast cancer, and as an extent to it, to everyone suffering from cancer. When I wrote this post last year, my uncle and dear godfather was struggling with cancer himself. He was gone within two months and I can't express how empty I felt. He was still in his fifties, far too young to leave this world. Getting married just a few months later is not an easy thing when a dear one is missing, and David and I decided to donate 50% of our money gifts to support research for cancer. A modest contribution to fight a disease everyone is concerned about in his near environment unfortunately.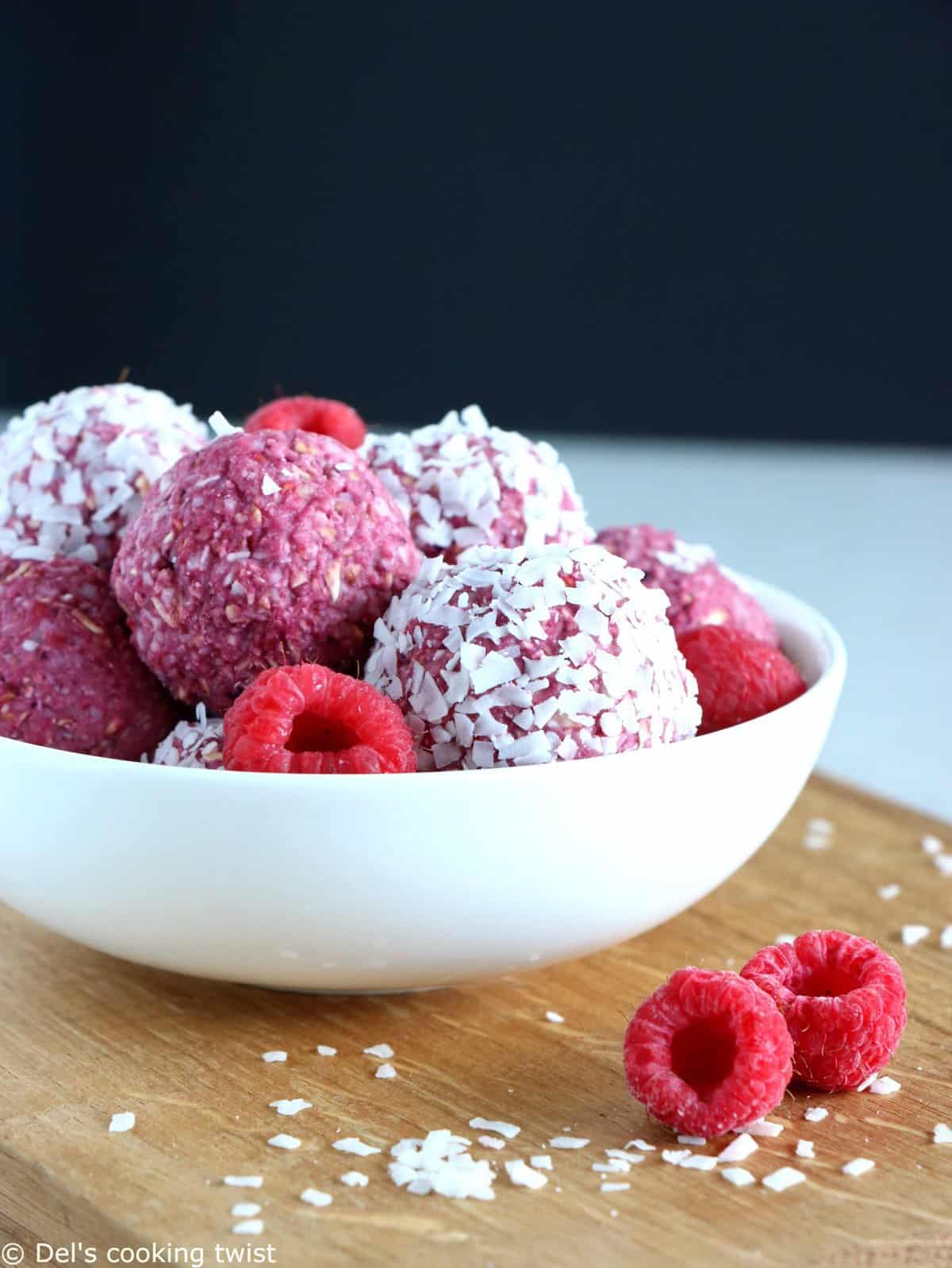 Coming back to this recipe, I developed this time a pretty easy one, a healthy snack you can enjoy anytime of the day, whenever you feel like eating a sweet healthy treat that brings you some energy. I love energy balls or energy bars, and I usually prepare them in advance in the beginning of the week so I have plenty for the rest of the week. It's also a great way to have control over the ingredients you use, which is almost impossible when you purchase an already made and apparently healthy energy bar, which has to have some preservatives to last longer. Prepare some homemade ones instead: it really doesn't take long and it's much healthier. A habit I recommend to everyone….